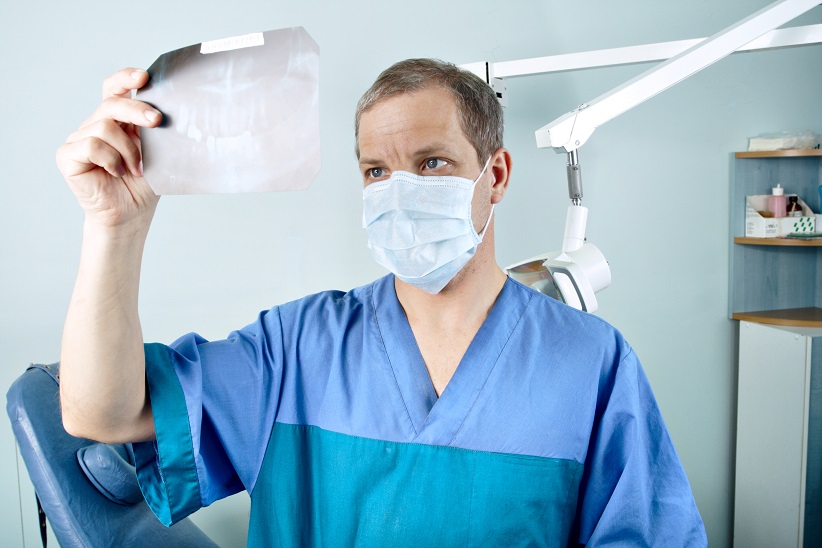 On a recent relaxing Saturday afternoon, I was enjoying some college football and watching one of my favorite games of the year: Army vs. Navy. Orthodontists tend to be pretty anal and spend most of their time thinking about teeth, so I was enjoying the temporary distraction from tooth talk and tooth thought. And then it happened. A commercial for a do-it-yourself orthodontic company! Suddenly my thoughts switched from football back to teeth. Ugh!
For those that are not aware, several DIY, at-home aligner companies have exploded in to the market over the last few years. They are trying to 'disrupt' the orthodontic industry and sell their products directly to the consumer and cut out the orthodontist altogether. Now, full disclosure, I am a DIYer. You can watch a YouTube video and learn how to do just about anything. But trying to perform your own orthodontic care without seeing an orthodontist can have much more serious consequences than trying to build your own bookshelf.
From an outside perspective, this looks like another example of industry disruption, like Uber vs. taxis, Airbnb vs. hotels, or Amazon vs. basically all retail. On the surface, pursuing orthodontic treatment may feel like buying a product and just looking for the best deal out there. But when you make the often life-changing decision to have orthodontic treatment you're not buying a product; you're investing in a medical treatment and in the doctor that delivers that treatment. Orthodontists are dental specialists, and spend an additional 6-7 years after college earning their dental degree, followed by a post-graduate program to earn a specialty certificate and often a Master's degree in order to attain the title of Orthodontist. When patients come to see us, we take extensive records and use our knowledge and expertise to provide a complete diagnosis of the crowding, bite, and determine if teeth are even healthy enough to be moved with orthodontics.
DIY treatment won't provide that information. The typical at-home process involves having the patient take a few selfies of their bite and then mix some of that goopy impression material to take molds of their own teeth. Now it's no secret that people don't love impressions, and that's when people that know what they're doing are taking them. Imagine having to take them on yourself. Without accurate impressions, the aligners won't fit properly, and without properly fitting aligners, the teeth won't move as planned. So, before you drop a few thousand dollars on unsupervised treatment to change your teeth, bone, gums, and bite, let's review some pros and cons of DIY orthodontics.
PROS:
- DIY aligner treatment is cheaper than seeing an orthodontist
- DIY aligner treatment is convenient. You never have to leave your home.
CONS:
- No clinical examination is done and no radiographs are taken. As stated earlier, this information provides the basis for a safe and effective treatment plan. Sure, the main benefit a lot of people get out of orthodontics is a cosmetic one, but there's much more going on behind the scenes when you pop those aligners in your mouth or get your braces adjusted. As teeth feel the forces exerted on them by braces or aligners or any other orthodontic appliance, the bone around your teeth is actually remodeling and changing, which is what allows the teeth to slowly move and straighten. The process happens safely when the bone is healthy and tooth movements are properly planned. Tooth movement in and through unhealthy bone can accelerate loss of bone and in the worst cases, even lead to loss of teeth. Even if the bone is healthy, but the tooth movements aren't planned or performed properly, those risks still exist. There's just no substitute for a real in-person orthodontist when it comes to providing an individualized treatment plan with the biology of bone and the mechanics of tooth movement front and center.
- There isn't an orthodontist directly supervising your treatment. Orthodontic treatment doesn't usually play out like the slick 3D video simulations you may have seen. Big or small modifications to the plan may need to happen during treatment to achieve your goals, and that's another reason it's important to have the orthodontist that created your plan involved in monitoring your progress and making any needed adjustments along the way. In the DIY world, rarely is direct communication with the doctor that created your tooth movement plan allowed. So if something is going wrong, your only option is to voice your concerns to a customer service representative. These are generally people that are going to be completely unfamiliar with your prescribed tooth movements. It's frustrating when the teeth aren't moving the way you hoped and you can't get answers as to why.
- Many kinds of tooth movements are difficult if not impossible with DIY aligners. So here is a little-known fact about clear aligner treatment: about 95% of cases require attachments to be bonded to some of the upper and lower teeth. These are small tooth-colored bumps customized in shape and size that aid the aligners in moving the teeth as prescribed, and are then removed at the end of treatment. Tons of research and thousands of completed cases have proven that using these attachments is a key factor in the success of getting teeth to move the way we want them to. The aligners engage these attachments to deliver the specific forces necessary to produce the desired tooth movement. Without attachments, some tooth movements just aren't possible, and other tooth movements might only get 50% of the way there. Attachments can only be placed and removed by a licensed doctor, so that means DIY aligners simply won't have them. The lack of attachments is just one example of the options that aren't available in DIY systems.
In all honesty, is it possible that DIY aligners might do the trick for some people with truly simple issues? It is. Someone with just a little bit of crowding, or a little bit of spacing might respond well to the use of one of these systems and be happy with the results. But more often than not there are underlying reasons for why that little bit of crowding or spacing exists, and if those reasons aren't identified and resolved, then a seemingly simple issue could become a much more complex one with a host of unintended consequences. The only way to really find out whether your issues are quite simple or deceivingly more complex is to visit an orthodontist for a thorough examination and records.
At Orthodontic Group we offer complimentary exams to new patients that include diagnostic x-rays, digital photos, and a 3D scan of your teeth and bite (no goopy impressions!). We are an Invisalign Platinum provider, which means we've treated hundreds of cases with clear aligners and are experts at knowing what is possible with plastic. But most importantly, we take the time to talk to you about what we see, about what your goals are with orthodontic treatment, and thoroughly explain what options are available to help you meet those goals. And if affordability is a concern, we can work with you to stay in your budget with in-office financing and payment plans. You have nothing to lose by seeking an expert opinion before taking on the risks of DIY orthodontics. Call us, e-mail us, or submit an appointment request on our website today!
In case you were wondering, the Army Black Knights defeated the Navy Midshipmen 17-10. Through 2018, Navy leads the series 60-52-7 but has lost the last three games.